Is It Spring?
There's got to be a fish in there.
 The flurries that visited us throughout late April and last Monday morning have yet to completely disappear as of mid-week. Heavy rain on Sunday night added some much needed water to the system. Temperatures will remain below 15C until the end of the week so don't put the warm jacket away just yet.
 The Bow River in Calgary has seen flows and water level increase with a big bump from the weekend rain, but we're not nearly into runoff yet. The river is right in the middle of historical average flows for this time of year. The super-low crystal-clear water of late winter is gone and has morphed into the ephemeral "streamer green" with a little less visibility, but don't worry:
Fish are less wary and are more likely to move from cover to food
Try fishing heavier tippet to land fish faster
Get closer to likely holding water
Fish bigger flies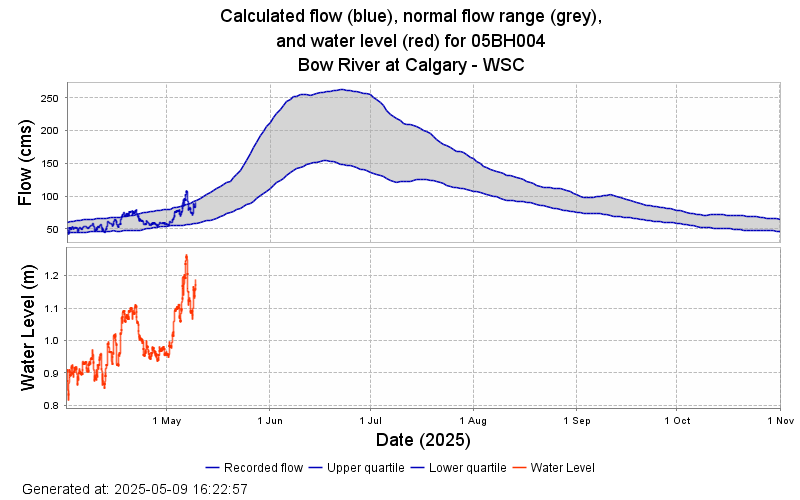 In the foothills, things are still low and clear. Daytime temperatures not higher than 5C this week have put a damper on the dry fly fishing, as water temperatures of 12C (54-55 F) are required for serious hatches. Most sections are now fully ice-free, but you'll still encounter snow and ice on the shaded corners. Stealth will be the name of the game (as always) on the brown trout streams. Remember to approach quietly from downstream and don't flog the water, make one cast count. Single flies in winter sizes (small) often do well. Skwala stoneflies often have decent hatches on these creeks at this time of year, weather permitting. Be sure to carry bear spray if you're heading into the ES2 zones, as the Grizzlies will be awakened and hungry. A reminder that ES1 streams aren't open until June 16.
Bow River rainbows are now making their way upstream into annual spawning tributaries, however some are still being caught in the mainstem. Anecdotal reports from anglers in the shop have noted catching very few browns this week, so go figure. Please take care not to step on Redds!
Insect life is making a steadier appearance above water when temperatures agree. Heading out for a day of fishing with dries as the focus is no longer the pipe dream it was just a couple weeks ago. Fish have been eager to rise once temperatures and cloud cover are suitable. BWO's and midges in the #18-20 range are very likely to work during morning or afternoon sippin' sessions, while a buoyant Skwala dry as part of a dry/dropper setup could also be interesting. A day of Skwala dry fly fishing is lucky, so if dries aren't on the menu, then a weighted Skwala nymph as a point fly sized #10-12 will often do any time of day. Cased caddis are plentiful on freestone streams right now. Winged versions have yet to make an appearance but no doubt are not far off.
Cased caddis larvae hanging in the current of an Alberta freestone stream.
With a little less visibility in the Bow, articulated streamers are more feasible to throw to the banks without the resulting splash spooking fish. As always, leech patterns are workhorses.
Pike season has now opened in Alberta and anglers across the province are getting the 9 weight rods and wire tippet out of closets and tackle boxes. Alberta has some amazing opportunities to catch these challenging apex predators. Check our web store to stock up on huge pike and musky flies from Catch Fly Fishing.
There have been disappointing reports of theft and other crime at the McKinnon Flats Boat Launch. A reminder to not leave valuables in your vehicle, and please be courteous to other users. Ongoing drainage pipe replacement work is still impacting the flow of the Elbow River downstream of Glenmore Reservoir. Flood mitigation construction is still ongoing from the Eau Claire area to Centre Street Bridge on the South bank of the Bow.
Good Luck
Nymphs
BWO Killer #18-20
BH Twenty Incher #10
Girdle Bug, Olive #8-12
BH Pheasant Tail #18-20
Brown Prince #14-16
Dries
Palomino Midge #20
Emma's Stone, Skwala #10
Almost Dun, BWO #18-20
Tilt Wing Dun, BWO #18-20
Hi-Vis Parachute Midge #20
Streamers
Thin Mint Bugger #8-12
Jig Slum Lord #10
McCune's Sculpin #8-6
Galloup's Dungeon, Olive #2
RIO's Make It Rainbow #4
---